AttributeDereferencer
Copies the value of an attribute whose name is referenced in the source attribute. The value is added to a newly created attribute.
Input Ports

Input
Features with attributes.
Output Ports

Output
Features with a copy of the value of the referenced source attribute.
Parameters

Source Attribute
The attribute containing a reference to another attribute.

Destination Attribute
The new attribute that will contain a copy of the source attribute's value.
Example
Suppose you have two attributes:
Attribute A has the value

B

Attribute B has the value

999
In the transformer parameters:
Set the Source Attribute parameter to A.
Create a new Destination Attribute called

newAttr

.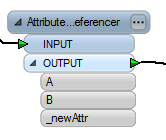 When you run the workspace, the value 999 (from Attribute B) is added to the destination attribute, as shown in the log file:
2010-11-27 18:13:38|   0.1|  0.0|INFORM|Attribute(string)        : `A' has value `B'
2010-11-27 18:13:38|   0.1|  0.0|INFORM|Attribute(string)        : `B' has value `999'
2010-11-27 18:13:38|   0.1|  0.0|INFORM|Attribute(string)        : `_newAttr' has value `999'
Editing Transformer Parameters
Using a set of menu options, transformer parameters can be assigned by referencing other elements in the workspace. More advanced functions, such as an advanced editor and an arithmetic editor, are also available in some transformers. To access a menu of these options, click

beside the applicable parameter. For more information, see Transformer Parameter Menu Options.
Transformer Categories
Search FME Knowledge Center
Search for samples and information about this transformer on the FME Knowledge Center.