AttributeRangeFilter
Routes features based on user-defined numeric value ranges.
Typical Uses
Classifying features based on value ranges for symbolization or other further processing in the workspace
Filtering out features that fall within a specific range of values
How does it work?
The AttributeRangeFilter lets you define one or more numeric ranges, each of which becomes an output port. An attribute is selected to be compared against these ranges, and output via the first matching range's port.
If the attribute value does not fall within any of the defined ranges, it is output via the <Unfiltered> port.
Ranges are inclusive. A value that could match more than one range will be output via the first one it encounters. Ranges are tested in the order they are defined in the parameters dialog, Range Lookup Table. For example, given the ranges 1 - 10 and 10 - 20, the value 10 will be matched to whichever of these ranges is listed first in the lookup table.
If either From or To is left blank, the range is open-ended; that is, it will match any value greater than (if To is blank) or less than (if From is blank) what is specified.
You may automatically generate fixed-interval ranges using the Generate… option.

Example: Filtering with value ranges
In this example, we want to categorize food vendors by the amount of daily traffic they have. The features are routed into an AttributeRangeFilter.

In the parameters dialog, we use the Generate… option to calculate three equal-interval ranges, based on our knowledge of the upper and lower limits of the daily traffic attribute values.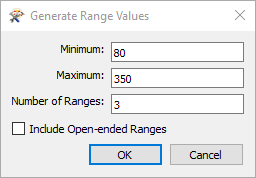 The intervals are calculated and added to the Range Lookup Table, with output ports automatically named. Note we have also selected the DAILY_TRAF attribute as our Source Attribute for categorization.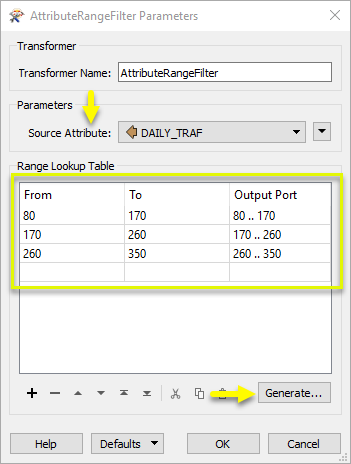 Lastly, we will overwrite the auto-generated Output Port names with meaningful names.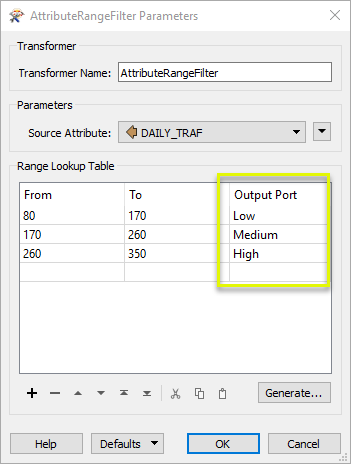 The features are output via the appropriate range's Output Ports.

Usage Notes
Only numeric ranges are supported
Expressions are not supported
To add an attribute classifying features according to numeric ranges (as opposed to routing/filtering them), consider using the AttributeRangeMapper.
Configuration
Input Ports

Input
Features with attributes to be filtered.
Output Ports

Output
Output ports are added for each defined range name. Features that match a range are output via the appropriate port.

<Unfiltered>
If the feature's attribute has a value that does not match any of the given ranges, or the attribute is not present, the feature is output via the <Unfiltered> port.
Parameters

Parameters
| | |
| --- | --- |
| Source Attribute | The attribute to be matched against range(s). |

Range Lookup Table
This table specifies a set a ranges and the port that a feature will be sent to if the Source Attribute value is within that range.
| | |
| --- | --- |
| From | The lower limit of the range (inclusive). Open-ended if left blank. |
| To | The upper limit of the range (inclusive). Open-ended if left blank. |
| Output Port | Name the output port for each range. Names will be automatically generated if using the Generate… option, and can be overwritten. |
Generate…
To automatically generate a set of ranges:
Click the Generate button to start the generation wizard.
Choose the minimum and maximum values of the attribute.
Choose the number of ranges you would you want to generate. The ranges will be equally spaced between the specified minimum and maximum values.
Select the Include Open-ended Ranges checkbox to create two additional ports for values that are smaller than the minimum value or larger than the maximum value.
Editing Transformer Parameters
Using a set of menu options, transformer parameters can be assigned by referencing other elements in the workspace. More advanced functions, such as an advanced editor and an arithmetic editor, are also available in some transformers. To access a menu of these options, click

beside the applicable parameter. For more information, see Transformer Parameter Menu Options.
Defining Values
There are several ways to define a value for use in a Transformer. The simplest is to simply type in a value or string, which can include functions of various types such as attribute references, math and string functions, and workspace parameters. There are a number of tools and shortcuts that can assist in constructing values, generally available from the drop-down context menu adjacent to the value field.

How to Set Parameter Values
Using the Text Editor
The Text Editor provides a convenient way to construct text strings (including regular expressions) from various data sources, such as attributes, parameters, and constants, where the result is used directly inside a parameter.
Using the Arithmetic Editor
The Arithmetic Editor provides a convenient way to construct math expressions from various data sources, such as attributes, parameters, and feature functions, where the result is used directly inside a parameter.
Conditional Values
Set values depending on one or more test conditions that either pass or fail.
Parameter Condition Definition Dialog
Content
Expressions and strings can include a number of functions, characters, parameters, and more - whether entered directly in a parameter or constructed using one of the editors.

Content Types
| | |
| --- | --- |
| | These functions manipulate and format strings. |
| | A set of control characters is available in the Text Editor. |
| | Math functions are available in both editors. |
| | These operators are available in the Arithmetic Editor. |
| | These return primarily feature-specific values. |
| | FME and workspace-specific parameters may be used. |
| Working with User Parameters | Create your own editable parameters. |
Reference
| | |
| --- | --- |
| Processing Behavior | |
| Feature Holding | No |
| Dependencies | None |
| FME Licensing Level | FME Base Edition and above |
| Aliases | RangeFilter |
| History |   |
| Categories | |
FME Knowledge Center
The FME Knowledge Center is the place for demos, how-tos, articles, FAQs, and more. Get answers to your questions, learn from other users, and suggest, vote, and comment on new features.
Search for all results about the AttributeRangeFilter on the FME Knowledge Center.
Examples may contain information licensed under the Open Government Licence – Vancouver