AttributeCopier
Copies existing attributes to new attributes with user-specified names. The existing attribute remains intact and a new attribute is created that has a different name, but the same values.
<![CDATA[ ]]>Jump to Configuration <![CDATA[ ]]>
Typical Uses
Create a copy of an attribute to preserve the original while transforming the copy
Create persistent mappings between differing input and output attribute names so that the mapping won't be lost if a connector is manually removed or replaced.
How does it work?
Blank rows are provided where you can create pairs of input and output attributes. The current values of the input attributes are copied to the output. One or more pairs can be added, and all features that pass through the transformer are modified according to these selections. You can optionally provide default values to be applied to the output where input values are missing.

Example:

Using an AttributeCopier instead of manually connecting attributes
You can replace manual attribute connections with an AttributeCopier transformer. In this example, FME doesn't connect the attributes because either the case is different or the name is different.

If you right-click on the existing connection and choose Auto Connect Attributes, FME will guess at the connections, connecting the attributes where only the case is different.

PathLength is not automatically connected to LENGTHOFPA, as the two names are too different for an automatic match. You would need to connect such an attribute manually.
However, with the above method, if the feature connection is deleted or replaced, the attribute mapping is lost and will have to be redone.
Instead, using an AttributeCopier to map the connections will keep the pairs persistently through changes to the workspace.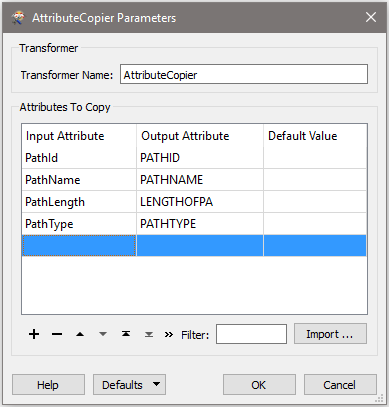 And the changes are reflected in the transformer:

Usage Notes
Configuration
Input Ports

Input
Features with attributes.
Output Ports

Output
List of attributes, including any that have been copied.
Parameters

Attributes To Copy
When an AttributeCreator is opened for the first time, this area will contain a blank row where a new attribute can be created. Additional rows are added as entries are made.
Input Attribute

Enter or select the name of an existing attribute from one of the drop-downs.

Output Attribute

Enter or select the name of the new attribute to be created if necessary and copied into. The value of this attribute will be the value of the corresponding Input Attribute.

If the Input Attribute does not exist on a feature and an Attribute Value is specified, the Output Attribute will be created and set to the value specified in the Attribute Value.

Default Value

Optional: The value to set the Output Attribute to if the Input Attribute does not exist on the feature (a default value). If the Default Value is blank, and the Input Attribute does not exist on the feature, the Output Attribute will not be created.

See Defining Values for various methods of setting these.
Dialog Options

Additional Tools
Row Reordering

Enabled once you have clicked on a new attribute in the list. Choices include:

Add a row
Remove a row (Action set to Remove)
Move current row up one
Move current row down one
Move current row to top
Move current row to bottom

Filter

Start typing a string, and the matrix will only display rows matching those characters. Searches all columns. This only affects the display of attributes within the transformer - it does not alter which attributes are output.

Import

The import button will populate the transformer with a set of new attributes read from a dataset. In the AttributeCopier, you can import Output Attribute names from an external dataset and then define the corresponding Input Attributes. If the transformer already contains new attribute entries, these are appended to the existing list.<![CDATA[ ]]>
Editing Transformer Parameters
Using a set of menu options, transformer parameters can be assigned by referencing other elements in the workspace. More advanced functions, such as an advanced editor and an arithmetic editor, are also available in some transformers. To access a menu of these options, click

beside the applicable parameter. For more information, see Transformer Parameter Menu Options.
Defining Values
There are several ways to define a value for use in a Transformer. The simplest is to simply type in a value or string, which can include functions of various types such as attribute references, math and string functions, and workspace parameters. There are a number of tools and shortcuts that can assist in constructing values, generally available from the drop-down context menu adjacent to the value field.

How to Set Parameter Values
Using the Text Editor
The Text Editor provides a convenient way to construct text strings (including regular expressions) from various data sources, such as attributes, parameters, and constants, where the result is used directly inside a parameter.
Using the Arithmetic Editor
The Arithmetic Editor provides a convenient way to construct math expressions from various data sources, such as attributes, parameters, and feature functions, where the result is used directly inside a parameter.
Conditional Values
Set values depending on one or more test conditions that either pass or fail.
Parameter Condition Definition Dialog
Content
Expressions and strings can include a number of functions, characters, parameters, and more - whether entered directly in a parameter or constructed using one of the editors.

Content Types
| | |
| --- | --- |
| | These functions manipulate and format strings. |
| | A set of control characters is available in the Text Editor. |
| | Math functions are available in both editors. |
| | These operators are available in the Arithmetic Editor. |
| | These return primarily feature-specific values. |
| | FME and workspace-specific parameters may be used. |
| Working with User Parameters | Create your own editable parameters. |
Reference

Related Transformers
| | |
| --- | --- |
| Processing Behavior | |
| Feature Holding | No |
| Dependencies | None |
| FME Licensing Level | FME Base Edition and above |
| Aliases |   |
| History |   |
| Categories | |
FME Knowledge Center
The FME Knowledge Center is the place for demos, how-tos, articles, FAQs, and more. Get answers to your questions, learn from other users, and suggest, vote, and comment on new features.
Search for all results about the AttributeCopier on the FME Knowledge Center.
Examples may contain information licensed under the Open Government Licence – Vancouver