RasterCheckpointer
Forces accumulated raster operations to be processed, saving the state to disk and releasing resources to tune performance or assist with memory limitations.
Typical Uses
Working around memory limitations in raster processing.
Performance tuning by forcing raster processing at specific points in a workspace.
How does it work?
The RasterCheckpointer receives raster features and forces the processing of any accumulated raster processing operations, then writes a temporary file to disk of the features' current state, freeing up memory.
FME handles rasters in a "delayed evaluation" model. A raster reader reads essential information about a raster, but does not read the actual cell contents until it is absolutely necessary. Transformer operations are accumulated until the results are needed, often being held until the features enter a writer. At that point, the required data is fully read and processed.
This is intended to optimize performance - for example, if a raster is both clipped and reprojected, FME will optimize processing by not reprojecting data that falls outside of the clip boundary and is ultimately discarded.
The RasterCheckpointer forces the raster to be fully read (if required) and accumulated operations to be processed immediately, saves the state to disk, and releases the resources that were in use.
RasterCheckpointers are generally not necessary in raster processing workspaces, as data is stored in memory. However, when memory limitations are a factor, such as very large datasets, using the RasterCheckpointer to save the state before performing more operations may lead to performance improvements.
This transformer is unaffected by raster band and palette selection.

Example: Improving large raster processing performance
In this example, we will look at how a RasterCheckpointer can improve processing time.
Here, we start with a 2 Gb GeoTIFF source raster, which needs to be reprojected, then pyramided, and finally written with a GeoTIFF writer.

The writer is where both the reprojection and pyramiding operations occur, as can be observed in the status bar while the workspace is running.

The workspace takes over four minutes to run.

Improving Performance
The workspace is modified, adding a RasterCheckpointer between the Reprojector and the RasterPyramider.

The RasterCheckpointer has no parameters to configure.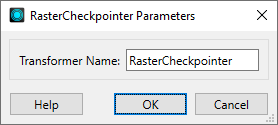 In this scenario, the reprojection operation takes place in the RasterCheckpointer, is written to disk, and then the pyramiding takes place in the GeoTIFF writer.
Upon running the workspace, the processing time is substantially reduced.

Though RasterCheckpointers are not generally necessary, this specific combination of one very large input raster and two computationally-intensive transformers benefits from using one.
Choosing a Raster Transformer
FME has an extensive selection of transformers for working with raster data. They can be generally categorized as working with whole rasters, bands, cells or palettes, and those designed for workflow control or combining raster with vector data.
For information on raster geometry and properties, see Rasters (IFMERaster).

Raster Transformers
Working with Rasters
Working with Bands
Working with Cells
Working with Palettes
Workflow Control
Vectors and Rasters
Configuration
Input Ports

Input
This transformer accepts only raster features.
Output Ports

Output
Raster features with any accumulated raster processing operations applied, the current state saved temporarily to disk, and memory caches cleared.

<Rejected>
Non-raster features will be routed to the <Rejected> port, as well as invalid rasters.
Rejected features will have an fme_rejection_code attribute with one of the following values:
INVALID_GEOMETRY_TYPE
Rejected Feature Handling: can be set to either terminate the translation or continue running when it encounters a rejected feature. This setting is available both as a default FME option and as a workspace parameter.
Parameters
This transformer has no parameters.
Editing Transformer Parameters
Using a set of menu options, transformer parameters can be assigned by referencing other elements in the workspace. More advanced functions, such as an advanced editor and an arithmetic editor, are also available in some transformers. To access a menu of these options, click

beside the applicable parameter. For more information, see Transformer Parameter Menu Options.
Defining Values
There are several ways to define a value for use in a Transformer. The simplest is to simply type in a value or string, which can include functions of various types such as attribute references, math and string functions, and workspace parameters. There are a number of tools and shortcuts that can assist in constructing values, generally available from the drop-down context menu adjacent to the value field.

How to Set Parameter Values
Using the Text Editor
The Text Editor provides a convenient way to construct text strings (including regular expressions) from various data sources, such as attributes, parameters, and constants, where the result is used directly inside a parameter.
Using the Arithmetic Editor
The Arithmetic Editor provides a convenient way to construct math expressions from various data sources, such as attributes, parameters, and feature functions, where the result is used directly inside a parameter.
Conditional Values
Set values depending on one or more test conditions that either pass or fail.
Parameter Condition Definition Dialog
Content
Expressions and strings can include a number of functions, characters, parameters, and more.
When setting values - whether entered directly in a parameter or constructed using one of the editors - strings and expressions containing String, Math, Date/Time or FME Feature Functions will have those functions evaluated. Therefore, the names of these functions (in the form @<function_name>) should not be used as literal string values.

Content Types
| | |
| --- | --- |
| | These functions manipulate and format strings. |
| Special Characters | A set of control characters is available in the Text Editor. |
| | Math functions are available in both editors. |
| Date/Time Functions | Date and time functions are available in the Text Editor. |
| | These operators are available in the Arithmetic Editor. |
| | These return primarily feature-specific values. |
| | FME and workspace-specific parameters may be used. |
| Creating and Modifying User Parameters | Create your own editable parameters. |
Reference
| | |
| --- | --- |
| Processing Behavior | |
| Feature Holding | No |
| Dependencies | None |
| FME Licensing Level | FME Professional Edition and above |
| Aliases |   |
| History |   |
| Categories | |
FME Community
The FME Community is the place for demos, how-tos, articles, FAQs, and more. Get answers to your questions, learn from other users, and suggest, vote, and comment on new features.
Search for all results about the RasterCheckpointer on the FME Community.
Examples may contain information licensed under the Open Government Licence – Vancouver