RasterBandSeparator
Separates bands or unique band and palette combinations, and outputs either individual raster features or a single new raster feature containing all combinations.
Typical Uses
Isolating bands or palettes to meet format or processing requirements.
How does it work?
The RasterBandSeparator receives raster features and separates their bands and palettes into individual output raster features.
Raster features may be split by band, band and palette, or palette.
Separating by Band Only will produce multiple output features, one for each band.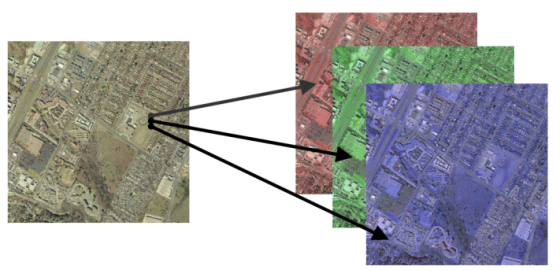 Separating by Band and Palette will also produce multiple output features, one for every unique band and palette combination.
Separating by Palette Only will produce a single output feature per input feature, containing bands for every unique band and palette combination.
Attributes may be created to record which raster, band, and/or palette from which the output feature originated.
The order of the input features and their bands and palettes will determine the order of the output features. A Sorter transformer may be used to set the order in which the features are processed.
This transformer is unaffected by raster band and palette selection.
Examples
Usage Notes
Choosing a Raster Transformer
FME has an extensive selection of transformers for working with raster data. They can be generally categorized as working with whole rasters, bands, cells or palettes, and those designed for workflow control or combining raster with vector data.
For information on raster geometry and properties, see Rasters (IFMERaster).
Configuration
Input Ports
Output Ports
Parameters